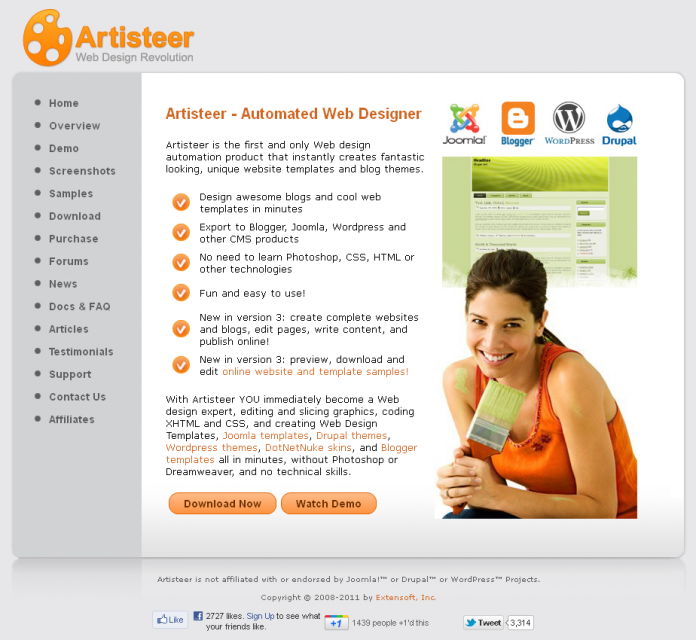 artisteer2.4で作成したWordPressのテーマは、
残念ながら、WordPress3.0から導入されたメニュー管理機能に対応していない。
せっかく買ったのに、悔しいので、あれこれ、と修正してみました。
その結果、なんとかパッチを作成できたので、その結果を公開します。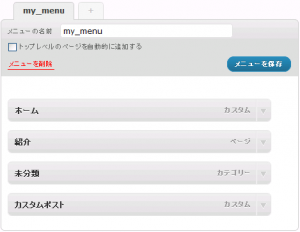 最初はできあがったテーマを修正する方法で挑戦してみました。
主要な処理は、テーマ内のfunctions.phpで行っていますので、このファイルを修正することにします。
WordPress3.0のメニュー管理機能に対応するには、wp_nav_menu()が吐き出すコードを解析して、Artisterr2.4のスタイルシートが適応されるようにhtmlタグの要素を変更する必要があります。
最初はpreg_match()やpreg_replace()で処理できないかと粘ったのですが、縦メニューでのアコーディオンメニュー実現の為、htmlパースを使って処理することにしました。
パースにはPHP4での使用を考慮し、PHP5のDOMDocumentクラスではなくphp4-html-domを利用させていただくことにしました。
ありがとう、midiman127さん!
でも、この方法では、Artisteerでテーマを修正するたびにエクスポートしたテーマを修正しないといけないのです・・・
これは、面倒ですね。
そこで、Artisteer 2のプログラム自体にテンプレートの元データがあるのではないかと探ってみました。
その結果、
C:\Program Files\Artisteer 2\Library\Data\Templates\WordPress\Export\Filesディレクトリに同じようなファイルがあることを発見、早速このファイルに修正を加えてみました。
で、新しくテーマを作成してみると、ちゃんと反映されてました。 やったね!
この修正を加えたファイルと言語ファイルja.moを追加したものをアップしておきます。
こちらの フォーラム に投稿しました。
使い方
注意: このパッチはArtisteer2.4に対応します。

ダウンロードファイルをアンパックし、
アンパックしたフォルダー(Artisteer2_Patch_for_WP3_Ver*.*\Artisteer 2)を、以下へコピーします。
Artisteer2.4をインストールしたディレクトリ内のフォルダー
通常は(C:\Program Files\Artisteer 2)
備考:
このパッチはC:\Program Files\Artisteer 2\Library\Data\Templates\WordPress\Export\Files\functions.php を上書きします。
パッチを実施済みのArtisteer2.4を使ってテーマをエクスポートすることにより、「WordPress3.0のメニュー管理機能」に対応したテーマを得ることが出来ます。
このパッチはArtisteer2.5以上では使わないでください。
(Please do not use this patch in Artisteer2.5 or more.)
[download id="13″ format="1″]
変更履歴
(2010/06/o5  初版)
(2010/06/18 Ver1.1)
サブメニューへの対応を追加しました。
(2010/06/22  Ver1.2)
縦メニューへの対応を追加しました。
(2010/06/24  Ver1.3)
ウィジェット Vertical menuの複製機能を追加しました。
ウィジェット Vertical menu にタイトルとメニュー選択オプションを追加しました。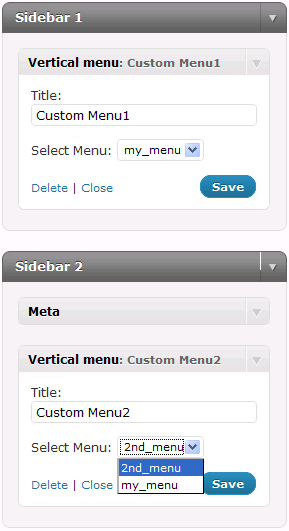 (2010/06/25 Ver1.4)
vmenu.simple スイッチへの対応を追加しました。
(2010/06/26 Ver1.5)
menu.topItemBegin & menu.topItemEnd  サポート追加
ウィジェット Vertical menu の表示メニュー選択に、Artisteerオリジナルメニュー(カテゴリー&ページ)を追加しました。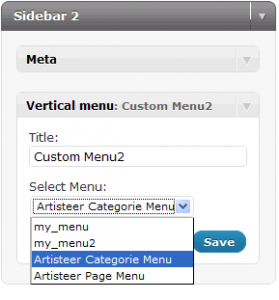 (2010/06/27  Ver1.6)
フッターへのwidget配置機能(テーマ Twenty Ten のような)を追加しました。
テーマのフッターメニューに'sidebar count' と 'sidebar position'を追加しました。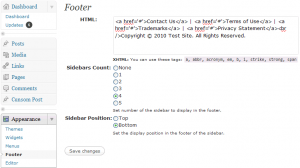 widgetsに'sidebar count'で指定した個数のサイドバーが表示されます。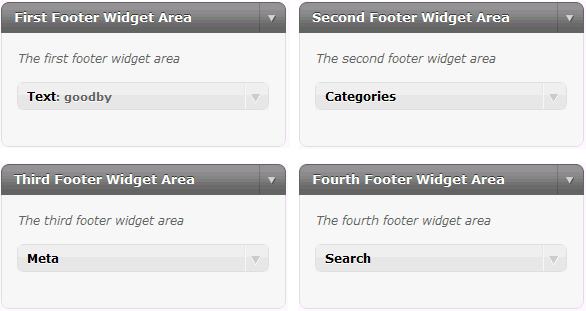 フッターにサイドバーが表示されます。

(2010/06/28  Ver1.7)
Artisteer2.3用のパッチを追加
マニュアル(Artisteer2_Patch_for_WP3_Manual.pdf)を追加
(2010/07/02 Ver1.8)
IE6 Footer layout bug fix
(2010/07/05 Ver1.9)
The bug by which the menu will be a blank was fixed.  (thx Style)
(2010/07/28 Ver2.0)
The bug fixes into which header.php exported by Artisteer doesn't load the comment-repla.js script.
The comment form position of replay is not correct in thread comment.
fix the following bugs.
While not creating the menu, a menu does not become an active display even if a page becomes active in a standard menu.
fix lost title attribute for menu a-tag (thx BG)